Aston Barclay Used LCV Desirability Index shows market pressures are mounting for buyers in August
Posted 31 August 2022
Buyers of used vans have been purchasing on need rather than desire in August according to the latest Aston Barclay desirability index.
In contrast to the previously standard seasonality of the used LCV market, where different van types are in demand at different times of the year August 2022 has seen buyers focus on essential LCV purchases instead. Either their van is getting too old to keep on the road or a company is growing and needs to expand its fleet.
Companies have shunned badge loyalty and bought used vans based on their individual budget and suitability for the job in hand.
Leading the desirability index in August are the panel vans, the Volkswagen Crafter and the Peugeot Boxer, but smaller panel vans, car-derived vans and pick-ups all appear in this month's index.
"What we have seen this month is that buyers have been focussing on purchases that fulfil their immediate needs, rather than the more considered buyer behaviour that we usually observe throughout the year," said Geoff Flood, Aston Barclay's LCV sales manager.
"The lack of liquidity in the current used market, added to the knowledge that the new LCV stock issues are beginning to improve means that many usual market patterns are temporarily on hold while buyers wait for stock levels to rise in the coming months. As a result, we have seen buyers purchasing vehicles that fulfil specific and immediate needs and who are less sensitive to brand, mileage and vehicle spec, but more focussed on a vehicle's utility" added Flood.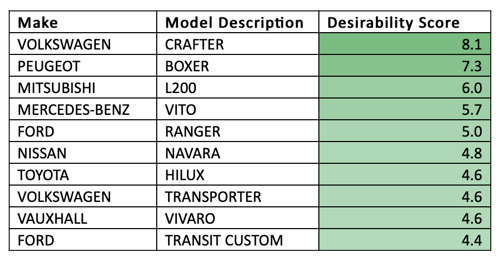 Aston Barclay's monthly index considers three key metrics: web views prior to sale, number of physical and online bids per sale, and the sale price achieved as a percentage of CAP average.